If you have ongoing problems with your gums or supporting tissues, then you may want to consider a periodontic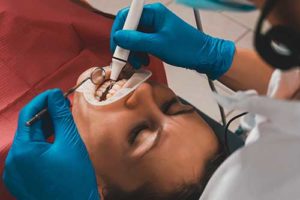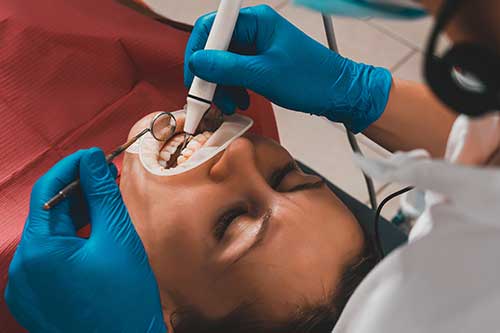 procedure to correct the issue. Lovett Dental Piney Point offers comprehensive periodontics in Piney Point, TX. Our specialists are trained to diagnose and treat gum disease and severe dental health issues. 
Our services include gum disease prevention, diagnosis, and long-term solutions that prevent further deterioration of the gums, teeth, or jawbone. Treatment ranges from non-invasive, non-surgical procedures to more aggressive procedures that address severe disease. To find out more about periodontics in Piney Point, TX, contact Lovett Dental Piney Point today.
Are You a Candidate for Periodontics?
Gum disease or periodontitis occurs when the gum tissue no longer fits close to the teeth. The gum tissue starts to deteriorate because of the buildup of bacteria or other substances. Once the gum line recedes, you may see periodontal pockets. These are gaps between the gum and the teeth.
Are you a candidate for periodontics in Piney Point, TX? You may be if you notice these problems with your teeth such as:
Redness along the gumline

Pain or discomfort every time you chew

Gaps between the gum and your teeth

Deterioration in the gumline

Gaps between your teeth
 If you experience any of these problems, you may be a candidate for periodontics or gum disease treatment. The best way to determine your condition and your treatment options is to schedule a dental exam with your Lovett Dental Piney Point dentist.
Different Options for Correcting Gum Disease
Lovett Dental Piney Point offers a variety of options for treating gum disease. Some of our most popular services include:
Dental Implants
If you have missing teeth and it is leading to gum disease, a dental implant may be an appropriate option. Your dentist inserts an implant into your jawbone and tops it with a dental crown. This is a permanent solution that enhances your smile while providing stability to your gums, jaw bone, and teeth.
Crown Lengthening Surgery
During this procedure, your dentist reshapes the excess gum or bone tissue to improve your smile or create adequate space between the teeth, bone, and gums. The procedure is ideal if you need to correct your gums or jawbone before they affect your teeth. 
Gum Graft
If your gums have reached the point where there is not enough tissue to support the tooth, a gum graft can provide reinforcement. A graft covers exposed roots, reducing the pain and discomfort you may feel. The procedure can prevent tooth decay or further gum recession. 
Why You Should Visit Your Periodontist
Dental health issues are like any other medical problem. Without proper treatment, they progressively get worse, leading to more costly health issues. While daily brushing and flossing are always recommended, it may not solve the problem once the disease has reached a certain point. 
When you visit Lovett Dental Piney Point, your dentist will perform a thorough dental exam that may include deep teeth cleaning to remove the plaque and tartar. We can identify the condition you have and make recommendations as to which treatment is most appropriate. Don't allow your teeth to deteriorate to the point where you need expensive surgery. Take the time to fix the problem now before it gets worse. 
Learn More About Periodontics in Piney Point, Texas
At Lovett Dental Piney Point, we are dedicated to providing the highest level of dental care in Texas. Our certified experts can handle a wide range of dental problems for both children and adults. Call our dental experts 832-242-2030 to find out more about periodontics in Piney Point, Texas. We can help you restore your teeth and brighten your smile once again.