At Lovett Dental Piney Point, we're here for the entire family. Our wide range of services and multiple specialties gives you just one place to go to get all of your family dentistry services. We have trained and board-certified specialists that can deliver the best services all under one roof. We even have orthodontists, endodontists, and periodontists for more specialized dental needs.
Family Dentistry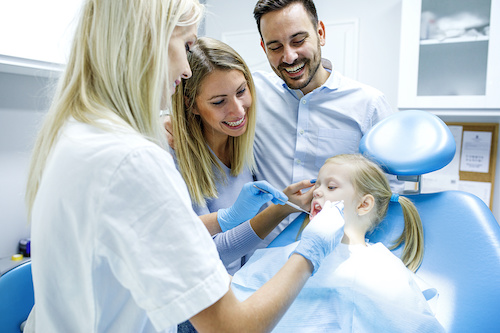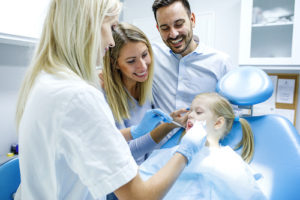 Children have special dental needs as well as emotional ones. Our family dental practice includes pediatric dentistry and all of the services it requires. From baby teeth to overcrowding to sealants, we can do all of your child's dental procedures at the same place that you see your dentist. We also understand the particular fears and insecurities that children often have at the dentist. We know how to put them at ease and make the family dentistry experience more fun. We instill good dental habits into children so they will have them for life.
Orthodontic Care
Because our office does both pediatric dentistry and orthodontics, the two departments can work together to create a specific plan for your child's teeth. And because we have both specialties, you can schedule dental exams and orthodontics appointments at the same place. At Lovett Dental Piney Point, we haven't forgotten about adults who need braces or other aligners. We treat patients of all ages to help them get just the smile they want.
Periodontics
Our family dentistry services include board-certified periodontists who work with gum disease. They use cutting-edge technology to diagnose and treat problems as well as helping you prevent them. They also place dental implants and perform cosmetic procedures. Gum health is vital to dental health, and our specialists have years of extra training to perform their procedures. If your periodontal disease is moderate or even more serious, or your dental case is complex, you need a periodontist to assess your condition and treat you.
Cosmetic Dentistry
Everyone wants a great smile, but many factors can make your smile less than desired. Tooth stains, chips, and gaps can all make people feel embarrassed by their teeth. Teeth often change due to aging, accidents, gaps in dental hygiene, and the movement of teeth over time. We offer a wide variety of cosmetic dental procedures to help you correct any of these problems. We offer tooth whitening, veneers, dental bonding, and of course, braces to make your smile look the best it can be.
General Dentistry
To serve your family's dentistry needs in the most convenient way possible, we offer a wide range of general dentistry services. You can come here for your six-month dental exams and cleanings and then follow up for treatments in the same location. We offer cavity filling, tooth extractions, and root canals. We can also give patients dental crowns and bridges. Our family dental practice can talk to you about better dental hygiene practices and diagnose any problems that require treatments and/or specialists.
We offer:
Fluoride treatments
Sedation dentistry
Sealants
X-rays
Full exams
Maxillofacial surgery
Endodontics
Family Dentistry Comfort and Speed
We know how common it is for patients to be nervous about going to the dentist. We make every effort to make sure that you are kept comfortable and won't have to wait too long. We have so many dentists and specialists that we can get you in and out in a reasonable amount of time. We make sure our family dentistry services serve you just the way you want to be treated. You'll get thorough exams, treatment planning, and any needed specialists when you come for our family dentistry services.
When you need an exam, treatment, or both, call us at 832.430.7364 to make an appointment.