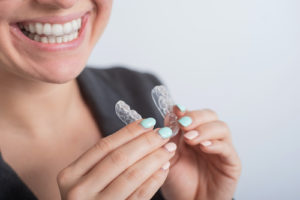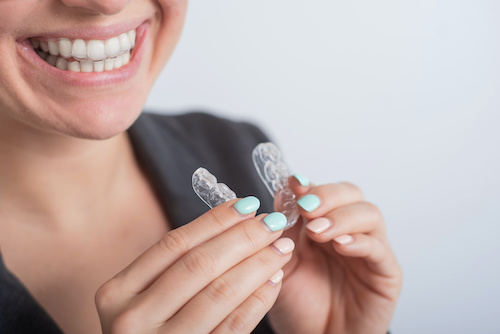 At Lovett Dental Piney Point, our professionals have worked hard to make sure that they can take care of various oral health needs. We are here to make sure you're provided with comprehensive oral health services. One of the many issues that we address is called bruxism. In many cases, we can fix this issue using nightguards. If you grind your teeth during the day or at night, learn more about how a dentist from our team can help you. Identifying and getting help for this dental issue can prevent other negative side effects from arising.
How Common Is Bruxism While Sleeping?
First, everyone needs to know that bruxism is the medical term teeth grinding. When people grind their teeth at night, this can lead to a variety of symptoms. Some of the most common symptoms of sleep bruxism include:
Waking up in the morning with dull, eating headaches due to the added pressure that was placed on the teeth and the muscles of the jaw at night
Jaw soreness that gets worse when people try to eat in the morning
Facial pain that develops due to the stress placed on the TMJ (temporomandibular joint) muscles
Increased fatigue due to difficulty sleeping at night due to teeth grinding
These are just a few of the many ways that bruxism can present. Furthermore, bruxism is actually far more than people realize. The prevalence of sleep bruxism among teenagers is high, and it's not uncommon for adults dealing with stress. For these reasons, it is important to address this issue using a night guard for sleep bruxism.
How Do Nightguards for Bruxism Work?
Numerous problems can be created by sleep bruxism; however, the biggest issue that must be addressed is the impact that teeth-grinding can have on the enamel of the teeth. As people continue to grind their teeth, they damage the enamel on their teeth. Therefore, it is important to put a barrier in place to prevent teeth grinding from damaging the enamel. This is where nightguards can be helpful.
Nightguards are thin barriers that are used to protect the surfaces of the teeth. By placing a thin barrier over the surfaces of the teeth, people will grind this barrier instead of their teeth. Therefore, these barriers can go a long way toward preserving the enamel of the teeth, preventing tooth decay from taking place.
Nightguards for TMJ Are Useful as Well
Another condition that is commonly found with bruxism is called TMJ. This stands for the temporomandibular joint. The job of this joint is to provide support and musculature for the job. The TMJ joint works hard when people speak, chew, and swallow.
Unfortunately, this joint can also be damaged by teeth grinding. When people grind their teeth, they place added wear and tear on the TMJ joint. This can cause people to develop jaw soreness, which signifies that the muscles are getting tired. The good news is that nightguards can be used to protect this joint as well. Using a guard to protect this joint, it is possible to take care of the jaw muscles, dramatically improving someone's overall quality of life.
Call Lovett Dental Piney Point for Help with Nightguards
If you are looking for someone who can provide you with comprehensive oral healthcare, including emergency services, then look no further than Lovett Dental Piney Point. If you are looking for help with nightguards, we are happy to talk with you about them. We can address a wide variety of oral health issues, so we are confident we can help you as well. Call us today at 832-242-2030 to make an appointment.